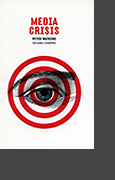 Over a decade ago, I completed this version of my website dealing with the media crisis. It was re-issued in book form in France by Cédric Biagini of Éditions l'échappée, (Paris) lechappee.org in the spring of 2015.

DARK SIDE OF THE MOON
Part

I
Latest critical media statement by Peter Watkins (2018).

STATEMENTS
Media critical articles
New posting -
MAY 15, 2018
.

LA COMMUNE La nouvelle direction de 13 Productions à Paris vient de sortir une version DCP plus courte de La Commune pour le cinéma commercial. C'est la version que j'ai spécialement produite en 2005. Ce DCP est disponible soit en Français seul, soit avec ajout de sous-titres en Anglais. Veuillez nous faire connaitre ce que vous souhaitez et nous vous mettrons en relation soit avec 13 Productions pour la version cinema de 3 heures 30 minutes, soit avec l'association Rebond for La Commune (Patrick Watkins) pour des projections-débats de la version TV d'origine de 5 heures 45 minutes.



LA COMMUNE The new management of 13 Productions in Paris has just released a shorter (3 hrs 30 mins) DCP version of La Commune for commercial cinema release. This is the specially edited version I produced in 2005. This DCP is available either with French dialogue only, or with added English subtitles. Please let us know your requirements, and we will connect you either with 13 Productions for commercial cinema screenings of the DCP version, or with the association Rebond for La Commune (Patrick Watkins) for non-commercial discussion showings of the original 5 hrs 45 mins TV version.

Those of you who have already used this website will notice some major changes.
Since many of the sections showing the availability of each film were completely out-of-date, we decided to remove them entirely, and we ask you to please contact me directly via the Contact Page regarding access to my work for theatrical and non-theatrical screenings and DVD copies.
Depending on your request, I will either deal with it directly if it concerns a film to which I have the rights, or else I will ask you to contact the relevant distributor or rights-holder, or I will pass your request on to Oliver Groom if it concerns Edvard Munch, or on to Patrick Watkins or 13 Productions in Paris, depending on which version of La Commune you wish to screen (see side-panel).
Please note that my spouse Vida Urbonavicius is now helping me with the administration of my films and their availability and will be participating in the communication process.
Kindly also note that I am no longer able to give interviews, either verbally or in writing.
I sincerely appreciate your understanding and support!
Peter Watkins,
France, 2019